Offering Fiber-Based Network Services
ERC provides fiber-based network services to the Western Carolina region. Our fiber optic network allows us to provide fast, reliable, and secure services to our clients in multiple locations.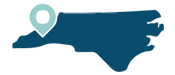 We Are Locally Focused
We are a locally focused community network that works in the areas of education, healthcare, government, carrier services and economic development.

Promoting Technology
ERC's goal is to promote the adoption of new technologies in order to advance the growth of the broader community.